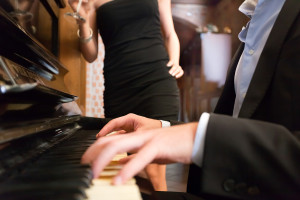 Christopher Holloway has maintained a private studio of singers ranging from 10 to 65 for the past fifteen years after moving back to the Tampa Bay area despite his extremely busy performing schedule. He teaches at his studios in Palm Harbor and St. Petersburg.
Belief
It is my belief that most people want to sing; they just do not know how to get started. I believe that with the right guidance, every person can improve his/her singing voice and sing with health and freedom. When a student entrusts his/her voice to my care, I take this responsibility with an extreme amount of seriousness. I will give the student 100 percent of my energy, gifts, and abilities as a performer, a technician, a teacher, and as a career consultant.
An Ideal Student Is…
~ Any person who wants to experience the joy of singing.
~ Any person who wants to learn more about his/her voice.
~ Any person who wants to improve musicianship or learn how to read music.
~ Any person willing to try new concepts to help his/her singing process.
~ Any person who wants to build more confidence in singing.
~ Any person wanting to sing in Classical, Broadway, or Jazz styles.
~ Any person who wants to strengthen musical artistry.
~ Any person who wishes to prepare for auditions or shows.